Sometimes, when I'm searching through artists for something to listen to on my iPod, I realize that I've let these precious British gems slip through the cracks.
Again.
I'm so sorry,
The Horrors
. Please forgive me? I promise to worship your over-gelled hair and running eyeliner forever!
...Ahem.
On another note, I (finally!) got the chance to watch
Whip It
last night, and boy oh boy is it
good.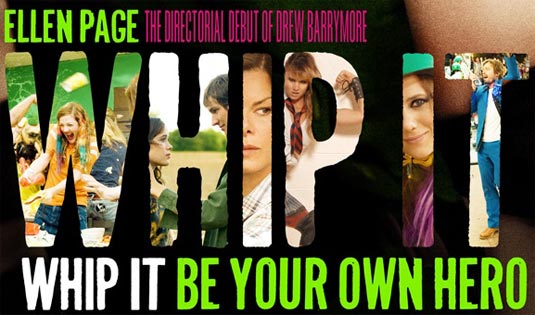 Ellen Page is legit my favorite actress. EVER. She makes her characters all seem so real and emotionally complex, while coming off as genuine, rather than cheesy. Drew Barrymore also proved she had some directorial chops for this film. I was, I admit, a little surprised by how much I liked this movie.
These girls have some serious skills (and a high pain tolerance!). Kinda makes me wanna get into roller derby...and maybe meet a hot guitarist along the way, too?
Sigh
...
I WANTWANTWANT Ellen's zebra tshirt! GRAWR! Lovely.
& I just loveloveloved all the random fashion in this movie! If I were into roller derby, I would dress like Ellen's character, Bliss, 24/7.
I give you a crappy rendition of the various outfits worn in said movie:
---
Zebra shirt by Magic Square, $38 CAD
Cropped ballet-style top by Mark Fast, $490 CAD
Calculator watch by Timex, $90 CAD
Green pleated tennis mini skirt from mansionselect.com, price unknown
Orange derby rollerskates from rollerskates.com, price unknown
Blue derby shorts from Marie Claire photo shoot, price unknown
Purple blazer by Ralph Lauren, $880 CAD
Polka dot skirt by Sophie, $42 CAD
Combat boots by Jeffrey Campbell, $305 CAD
Glasses by Benjamin Eyewear, $345 CAD
Vintage wash skinny jeans by American Eagle Outfitters, $53 CAD
Green polo shirt by Henri Cotton, $76 CAD
Various buttons